2007-01-31
Crocheted Mittens
Finally! I started these a long time ago, then forgot about them, then picked them up again & finished them in the last two days. I pretty much winged it, using the
Family of Mittens
pattern &
this
pattern as guidelines.
I used the same yarn as for my tam (Lion Brand Wool-Ease in Mushroom), & they're all done in single crochet. I'm very pleased with how these came out, except there's a strange line running across the left one. Oh well, they fit perfectly, & now I don't have to worry about my fingers falling off during this cold weather.
2007-01-19
"It's my birthday today!"
Brandon's birthday was on the 17th, so I stenciled a shirt for him.
The stencil is placed on the bottom front of the shirt. I was going to put "It's my birthday today!" on the chest, but then I thought he wouldn't wear it any other time. Turns out he would, I should've known. Anyway, it came out PERFECTLY. I was surprised that there weren't any mistakes considering the number of little details.
2007-01-05
Mushroom Tam.
My first completed crochet project (besides baby booties) based on the
Rasta Tam tutorial
by patchworkarmy. I called it the Mushroom Tam because I was tickled by the name of the color yarn I used,
Mushroom
.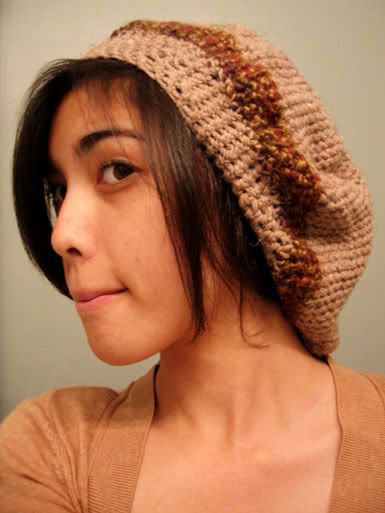 You
will
see more of these.