2006-09-20
Sax Appeal.
This is the first sewing project I attempted. I borrowed my Tita Cecile's sewing machine & followed a
tutorial
provided by thejordy on craftster for the Jordy Bag.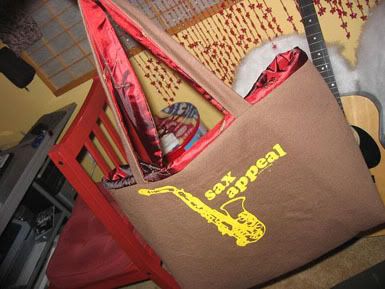 January 2005.
The outer fabric was a t-shirt I bought from Target & the lining was some fabric I picked up at Wal-Mart.
Since I was just getting started, it was just a plain tote, no pockets or zippers or zippered pockets. I was using this tote for school, so I made a sort of mini-version & created a pouch instead of installing a pocket.
I used it for almost a year before trying to pawn it off at the Buffalo Exchange, but it didn't pass their standards. Oh well, it went to charity.