2006-09-24
Dark Gray Pocketed Dress.
My favorite project. It was inspired by a Vera Wang dress I saw & felt the need to recreate.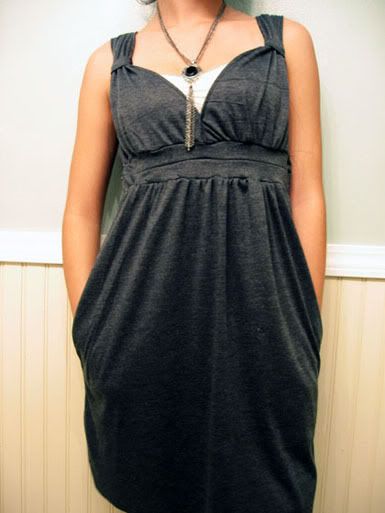 September 2006.
Made of interlock knit jersey. I changed the straps in the middle of creating it because the idea just came to mind, & I thought it'd look better than how I originally planned it to be. The pockets are functionable & the dress falls above the knee. I would wear this everyday, but that'd be pretty nasty.
Brown Vinyl Schoolbag.
This was my first time sewing with vinyl. I had researched it to make sure I didn't waste any & thought I'd be needing a special foot for it. I didn't buy one in time (I was trying to finish it in time for school) but found out I didn't need one at all.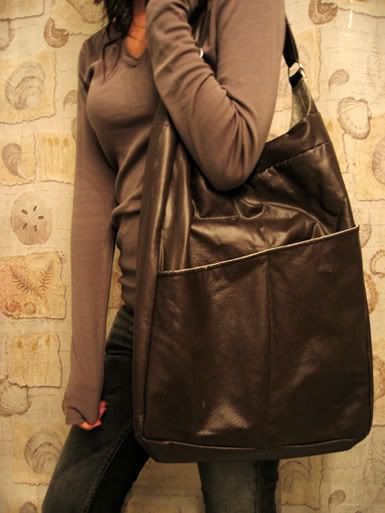 August 2006.
There are two front slash pockets & a zippered pocket inside. The strap is attached to two D-rings. It has a magnetic closure (also a first of mine). The piece of fabric on the front is supposed to be a random flower but I've had comments where people thought it was a piece of tissue stuck to my bag.
Leopard Racerback.
My Tita Carla brought over a bag full of old clothes she thought I'd be able to use. It included a velour leopard print tube dress. Perfect.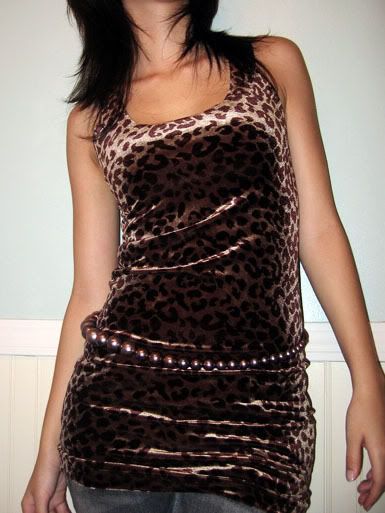 July 2006.
I used a tank I had as a guideline & it didn't take long to make. About or less than an hour, I'd say.
Little Black Pinafore.
This was originally intended to be an empire-waisted little black dress. I just hadn't decided on the bodice. Before I decided to call it a day & go to bed, I looked at what I had & thought to just add straps.
July 2006.
Anyway, I'm really proud of this. It's super versatile & I love it.
2006-09-23
Drop-to-Empire Waist Recon.
This was originally a dropped-waist dress I got at American Eagle without trying it on, thinking it'd look okay on me. It didn't. Why didn't I return it? I bought it in Texas & I thought I'd be able to make something beter out of it.
July 2006.
I added on the bottom part long before I altered the waist. The side seams are messed up, they're all wiggly. I've yet to fix them & actually wear this dress out. Eh, I'll get around to it someday.
Plaid Shirtdress.
This was made from a men's button-down collared shirt I picked up at Target. I don't remember if it was an XL or an XXL or even an XXXXXL, but it was pretty big.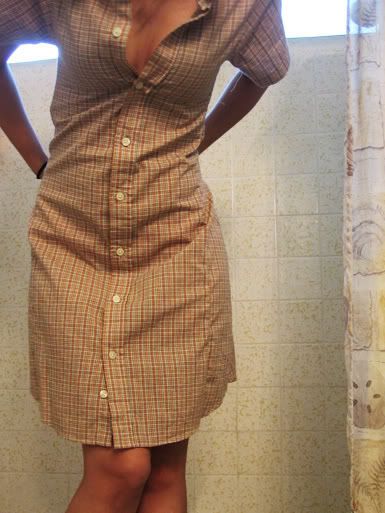 June 2006.
There are side panels I had to add on because I didn't take my hips into account when I cut it up. This picture doesn't show, but I put puffed sleeves. I literally stayed up all night making this, I think until 7 in the morning. It was summer though, so it was fine.
Iron(III)Oxide Dress.
This was inspired by the
lantern dress
created by justinexcore, one of my favorites on the Craftster forum. Probably one of the most professional pieces I've done.
June 2006.
I made a dress similar to it for practice, no pattern, just winged. It's made out of tissue knit jersey I ordered off of fabric.com, because jersey is just so hard to find in stores. The sleeves are gathered & the neck is scooped, but I'm thinking of changing it to a v-neck pretty soon.
Newsboy Hat.
Recognize this fabric? I decided to try out a hat. It seemed simple enough, but damn measurements are tricky. I used the pattern from the Wild Things program.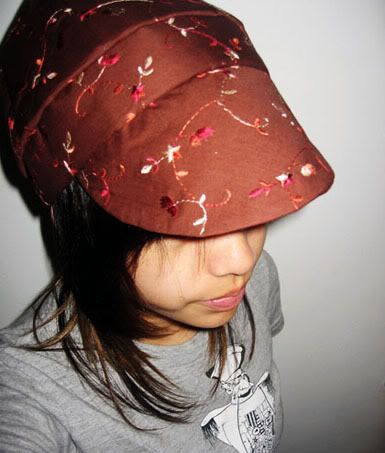 May 2006.
The inside has black satin-y lining. It's a bit tight for my head, which means it'd most likely be too tight for anybody older than 5-years-old.
Foldover Messenger Bag.
Apparently, I took a big break from sewing until April of this year. For what reason, I do not know. But then I saw a canvas foldover bag on UrbanOutfitters.com that I thought was pretty cool, so I snagged the idea & made my own version of it.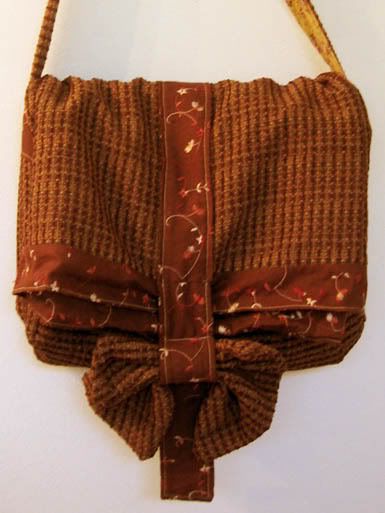 April 2006.
Unfolded, there are two small pockets for pens, pencils, & my cell phone, then a big curved pocket for whatever else I needed to carry. It's like a big pillowcase with a strap & pockets. The big bow was put to weigh down the foldover part, or else it'd pop out & look funky. Outer fabric is tweed & some embroidered fabric I had laying around, inside is a yellow & pink floral pattern.
iPod Cozy.
So I had a Creative Zen Micro, but then I lost it in a movie theater. I realized this on the way home so we went back to the theater & asked to go back inside so I could look for it but they said they'd go look for it themselves. They came back & said they couldn't find it. I was thinking, "Bullshit. One of their workers probably took it when they were cleaning up." I was pretty mad, but what could I do?
A loong time later, months probably, my parents got me an iPod Photo for being such a good daughter. Funny thing, the day it came in the mail was the day they introduced the iPod Video. Oh well, I'm good with mine. After about a week it got all scratched up so I decided I needed a cozy for it.
November 2005.
Ribbon & button closure, hand sewn blanket stitches. The whole thing is basically a closed up sock-like thing with a cut across the middle for two pockets (one for the iPod, one for the earphones) & a hole so I can see the screen. You can use the iPod wheel through the fabric.
2006-09-22
Floral Marines Hoody.
Using this
tutorial
by astrea, I reconstructed this hoodie out of a t-shirt my mom bought me (she & my dad are ex-marines) & some non-stretch flowery fabric I had.
October 2005.
I love the irony in it, however, the non-stretch parts aren't so comfortable. Also, in its construction, I accidentally sewed a sleeve on inside out so I had to rip that out & do it over. I also cut the pieces for the hood all in the same direction instead of half facing the opposite way, so that was a waste of fabric. It's still alright, though.
Safety.
This had nothing to do with sewing, but rather stenciling. My happy birthday present for my boyfriend, Adam.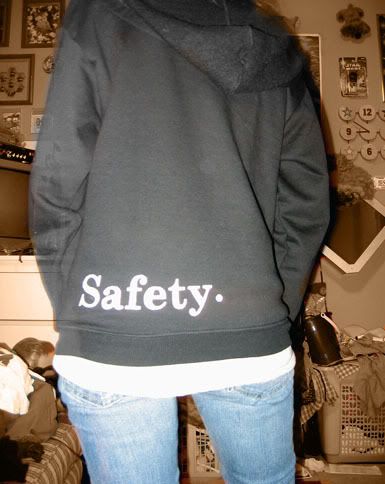 October 2005.
I used fabric paint & freezer paper with help from my friend, Jeff. Just kidding, he's a manly man that doesn't help his girl friends with gifts for their boyfriends. I'm glad to say that Adam has worn this many many times, what a sweetheart <3.
2006-09-21
Brown Scrunched Tube Top.
Made from a big turtleneck my Ate Eva gave me to use as I wanted.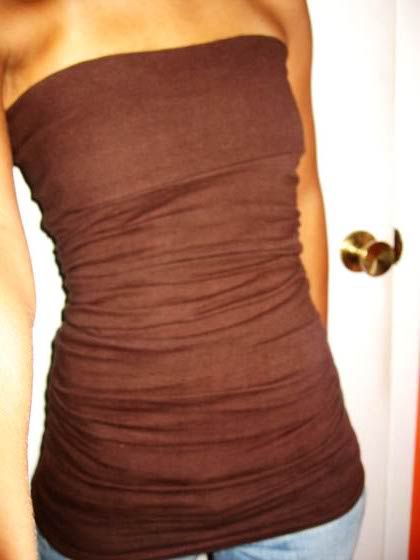 August 2005.
The part around my bust is the neck of the shirt. A perfect example of the convenience of small boobs. The scrunching was a result of me thinking the shirt would stretch over my butt, but instead it wouldn't go past my crack. It was very long & ended up just scrunching up together.
What would we do without mistakes?
Shrugs.
My first clothing items. Reconstructed from unwearable long-sleeved collared shirts.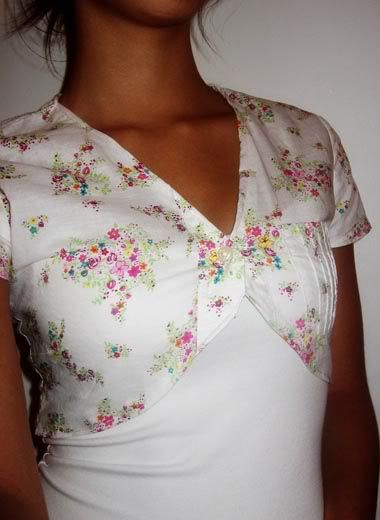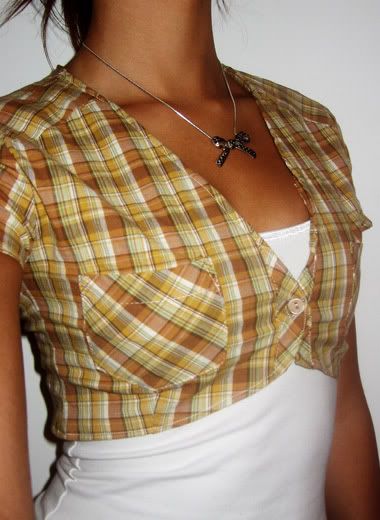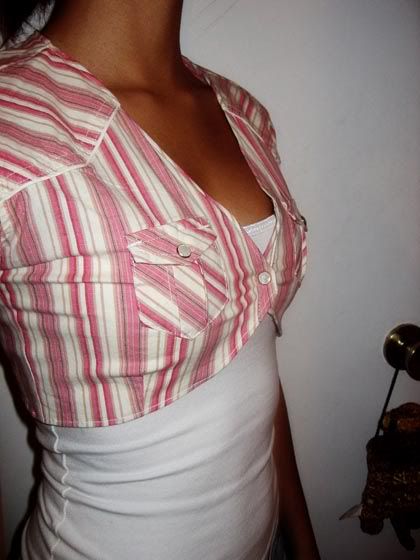 July 2005.
This was also the first time I provided a
tutorial
. To my surprise, it was very popular on the Craftster forum & made it to the Featured Projects section. Great outcome for my first clothing project, if I may say so myself.
Gray Hobo Bag.
I made my first hobo using this
tutorial
by tinafish.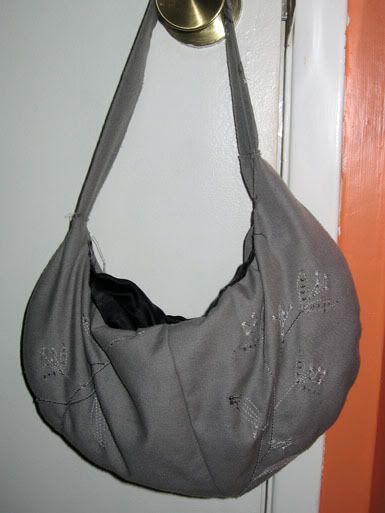 July 2005.
Zippered top & black satin-y lining. I accidentally sewed one or two pieces of the outer fabric inside out so the embroidery looked a little funny, but barely noticeable. I took this baby almost everywhere.
Jamaican Me Crazy.
Made for my cousin, again, from a shirt she picked out.
July 2005.
This one actually had a zippered pocket inside which I think I did a pretty decent job on considering it was my first & I did it without a zipper foot. I cut out the "JAMAICAN me crazy" part of the shirt, interfaced it, & sewed it onto the front of the outer fabric.
Zippered pocket & applique? Oh yeah, I was getting pretty creative at this point.
Underdog.
This was made for a friend for $10. She provided the t-shirt for the outer fabric & I had some $2/yd fabric that happened to match perfectly.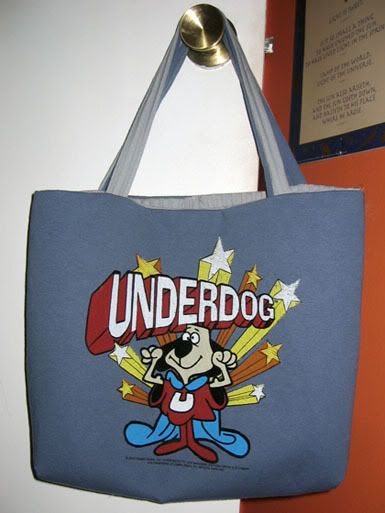 June 2005.
I screwed up on this one though. I sewed the lining in inside-out, so the wrong side ended up showing. It was alright, she didn't mind since it was on the inside & I was just beginning.
Not to mention it was only costing her $10.
I forgot to mention that I used fusible interfacing on this bag & the Sax Appeal one, so they were pretty sturdy bags.
2006-09-20
Sax Appeal.
This is the first sewing project I attempted. I borrowed my Tita Cecile's sewing machine & followed a
tutorial
provided by thejordy on craftster for the Jordy Bag.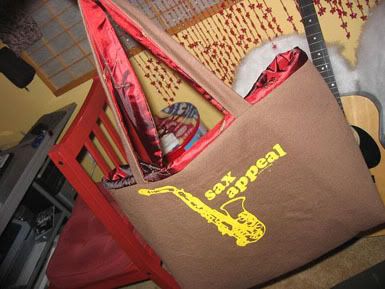 January 2005.
The outer fabric was a t-shirt I bought from Target & the lining was some fabric I picked up at Wal-Mart.
Since I was just getting started, it was just a plain tote, no pockets or zippers or zippered pockets. I was using this tote for school, so I made a sort of mini-version & created a pouch instead of installing a pocket.
I used it for almost a year before trying to pawn it off at the Buffalo Exchange, but it didn't pass their standards. Oh well, it went to charity.
First Post.
First posts always suck. It's like meeting someone new for the first time & not having the slightest inkling of what to say to them. I'm not the best candidate for meeting new people so that's probably why I'm so bad at first posts.
Since this will primarily be a portfolio of what has happened to come out of my blood, sweat, tears, & sewing machine, you & I are going to take a trip back in time. That's right. Time travel. I have the access.
Since I've been sewing long before this blog has been published, there will be several posts each dedicated to the projects I have completed (or maybe not necessarily
completed
) in my experience behind & around what I believe to be one of the greatest inventions ever to come into existence.