2006-09-23
Foldover Messenger Bag.
Apparently, I took a big break from sewing until April of this year. For what reason, I do not know. But then I saw a canvas foldover bag on UrbanOutfitters.com that I thought was pretty cool, so I snagged the idea & made my own version of it.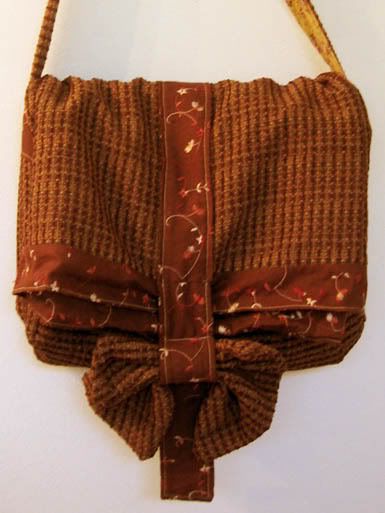 April 2006.
Unfolded, there are two small pockets for pens, pencils, & my cell phone, then a big curved pocket for whatever else I needed to carry. It's like a big pillowcase with a strap & pockets. The big bow was put to weigh down the foldover part, or else it'd pop out & look funky. Outer fabric is tweed & some embroidered fabric I had laying around, inside is a yellow & pink floral pattern.